Worship with Candlelight and Eucharist
4:00 PM      Child-friendly, Christmas Story, Sermon, Eucharist, Candlelight
9:45 PM      Festive Christmas Vocal and Instrumental Music
10:00 PM    Candlelight, Chanted Liturgy, Sermon, Eucharist, Special Music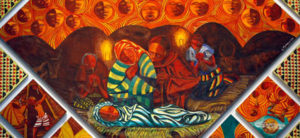 On a dark winter evening we gather to proclaim the coming of the light. The prophet Isaiah announces that the people who walked in darkness have seen a great light. In the story of Christ's birth, the evening sky is bright with the heavenly host singing, "Glory to God in the highest." Amid our broken world we proclaim that the prince of peace is born among us. God comes to us in human flesh—in Christ's body and blood—so that we may be bearers of divine light to all the world.
Join us in music, song, beauty, and joy, and let the light of Christ transform you.
There will not be a liturgy on Christmas Day, Monday, December 25.